BIOGRAPHY
Jennifer Wharton is a low brass specialist based in New York City. Though getting her start classically, Jen has deep roots in jazz, commercial, chamber and Broadway music. Like a virus, she won't stop until she has conquered the world!
These days, Jennifer can be found performing in King Kong: Alive on Broadway but has also held positions at Beautiful, the Carole King Musical, The Gershwin's Porgy and Bess, Jekyll and Hyde, Scandalous, Wonderland, 9 to 5 and Curtains, as well as performing as a substitute in over a dozen other Broadway productions.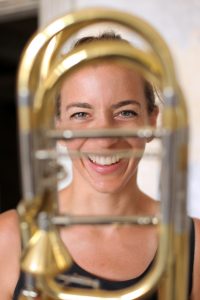 Jen is a member of two multiple Grammy-nominated ensembles, Darcy James Argue's Secret Society and Alan Ferber Big Band. She has also performed on the Grammy-nominated cast albums for The Gershwins' Porgy & Bess, 9 to 5 The Musical and Curtains The Musical as well as the Grammy-winning recording of Beautiful The Carole King Musical. 
She has performed and/or recorded with ensembles including the Vanguard Jazz Orchestra, Dizzy Gillespie All Star Band, Ken Peplowski Big Band, Miggy Augmented Jazz Orchestra, DIVA Jazz Orchestra, Arturo O'Farrill and the Afro-Latin Jazz Orchestra, Birdland Big Band, Ayn Inserto Jazz Orchestra, Woody Herman Orchestra, Terraza 7 Big Band, John Yao and His 17 Piece Instrument, Walking Distance, South Florida Jazz Orchestra, new Alchemy Jazz Orchestra, Steven Feifke Big Band, and the BMI Jazz Composers' Workshop. 
Jennifer is an XO Professional Brass artist and plays the 1240-LT bass trombone. She teaches bass trombone at Montclair State University in New Jersey.